Our Solutions
Blackthorn Case Management solutions offer our clients flexibility, ease of use, integration, choice of risk management methods, better reporting, security and accuracy. At Blackthorn, we follow "listen> improve> repeat" approach that helps us in reducing your costs and risk across your enterprise.
Case Management Solution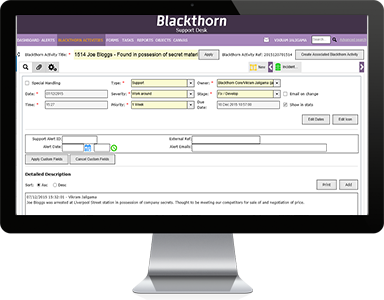 Our CMS is a web-based solution used for Public Sector, Banking, Military and Aerospace. Whether in the field of forensics, criminal, fraud, or vetting, Blackthorn is a tried and tested system that enables clients to manage their workload with total security, integrity and accountability. Access to your information is based on your role within your organisation. We also have Special Handling for when you need to investigate internally. When you capture information that is crucial for your process, that data will be hashed to ensure that no one can tamper with it, so you can be confident that when it is retrived it has not been altered in any way. A full audit log of all user activities, provides high levels of accountability and transparency at the same time allowing your users to easily manage their cases.
Our Aim
We want you to have a solution that allows you to record, manage and report your case without getting in the way of your staff actually performing their work. Systems should make life easier, not something you have to fight with. We want to work with your organisation to make it more effective, staff happier, at the same time be compliant with processes, resulting in better profits.
Our Features
All variants of our Case Management Solutions are based on a technology platform (cloud or on-premise) that incorporates the following features and capabilities. Click on a feature to find out more.
---
Other Blackthorn Features Include:
lay down, in advance, workflow (repeatable patterns of activity) aligned to the optimum response strategy for a given investigation type (e.g. fraud, theft, sexual harassment)
define, capture and publish ad-hoc response strategies for extraordinary investigations (i.e. investigations not presently catered for)
log key decisions regarding determination of strategy and information that informed decisions
Secure Reporting capabilities supporting individual and collective case analysis
Graphical modelling to help visualise linking people, locations and evidence
Contemporaneous (Write once, Read many) notes available at multiple points in a case's life cycle
Ability to assign, track and chase key responsibilities via Task Management
Update cases and attach evidence simply by sending in an email
Blackthorn is the enterprise Governance, Risk and Compliance (eGRC) vendor.
We have a passion for helping organisations remove complexity, quantity and manage information
risk across business and technology.